A Guide to Digital Locks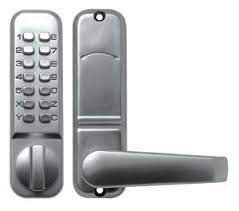 As technology progresses and older security systems become obsolete in providing the best security, digital locks have started gaining popularity. They are especially becoming popular for commercial and residential use and are no longer limited to use by giant business buildings. Digital locks come in various types to suit individual needs and are likely to take over the traditional locks as a preferred locking system. Not only are digital locks safer but they are a far more convenient option as there's no risk of losing keys and having to go through the arduous process of re-keying.
Entry Methods
Entry methods for digital locks vary and you can choose which one is most suitable for you.
● Combination door locks – these come with a keypad or touch screen for you to type in a pin number to allow entry. There's no hassle with a key and you can have a security system programmed in such a way to only allow a limited number of entries after which an alarm goes to alert you of someone trying to gain entry.
● RFID – this uses a key fob or card for entry. You won't even need to bother taking your key fob or card out of your wallet or purse as it will sense it when you're close by.
● Bluetooth enabled locks – they work in a similar way to the RFID and sense your phone's Bluetooth when you're close by to automatically open. Both options are perfect for disabled people as it allows them to open the door by just being in close range.
● Biometric locks – this is the most convenient lock as there's no way to misplace your fingerprint and it's also the safest as your fingerprint can't be stolen or replicated. As fingerprints can be stored by the biometric system, you can choose whom to allow access to and for what period. You can later remove that fingerprint when necessary.
Digital Locks Get "Smart"!
Other than the security provided by the particular entry methods, digital locks can be further optimized by syncing them with your home security system and other home devices for added protection and convenience. Some digital locks are designed to sync with certain apps so that you can have constant alerts about anyone trying to access your home. The apps can also be used to give you easier and better access when you have to unlock the digital locks or can act as a secondary unlocking method. It is also possible to use these apps to unlock your door for someone without having to come home to do it for them. For example, if an unexpected relative or friend arrives while you're at work you can unlock the door from your app to give them access. It is also possible to sync fire alarm, burglar alarm, and flood alarm systems to the apps so that you can immediately be alerted in case of an emergency and can take the necessary measures to fix the problem.